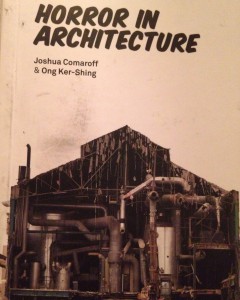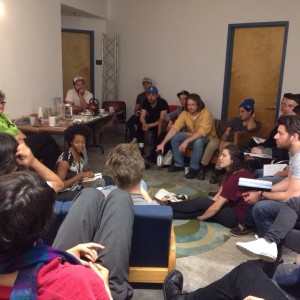 An informal coffee chat with Rutgers MFA's on Tuesday unearthed a collective concern about space. For two hours we talked Architecture, infrastructure, sustainability, power, privatization of the land, life on the Moon and Yertle the Turtle. I raised a few questions here and there, about race and access, about perceptions of self relative to nature and/or the urban built environment. We all have something at stake when it comes to self-determination and our living environment.
Fred Moten and Stefano Harney's
"the Undercommons, Black Study and Urban Planning" has become the densely worded spirit guidebook for many of us, Aki, Marc and I are plugging along in its poetics.
Another book I meant to bring to the forefront is a very amazing little read by Joshua Comaroff and Ong Ker-Shing called "Horror in Architecture" which looks at the underlying anxiety of disorder and destruction in the heart of the modernist enterprise, using the horror genre and the human body as a departure point.
The feeling toward the end of our meet-up was that we should work toward a Spring project, similar to last years' performance event , perhaps embracing more of the Rutgers campus, examining its "corporate" architecture and landscaping. All this can be discussed and thought about further at a January meeting, date to be determined. Meantime, wouldn't it be nice to put together a newspaper or 'zine that can contain the various articles and theories everyone put into play yesterday? We talked about separatist idealist communes, nature and romanticism, pragmatic nuclear waste storage issues and reuse, purchasing air rights, the demolition of the Pruitt-Igoe housing project… we spoke about citizenship, immigration, choice, and Non-participation in the systems that bind us to the modern, built world.