2009 First Year MFA exhibition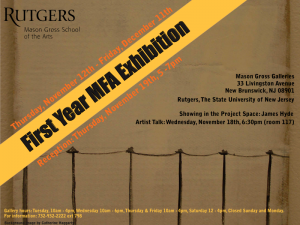 Please join us at Mason Gross School of Art
in the Civic Square Building downtown New Brunswick:
First Year MFA Exhibition
Thursday, November 12th – Friday, November 19th
Reception: Thursday, November 19th
5 p.m. to 7 p.m.
Project Space: James Hyde
Artist Talk: November 18th 6:30pm in CSB room 117
Rutgers, The State University of New Jersey
Mason Gross School of Art
Mason Gross Gallleries
33 Livingston Avenue
New Brunswick, NJ 08901
For further information contact
LaToya Frazier
732-932-2222 ext 798
Gallery hours: Tuesday, 10am – 4pm, Wednesday 10am – 6pm, Thursday & Friday 10am – 4pm, Saturday 12 – 4pm, Closed Sunday and Monday.
No comments yet.
No trackbacks yet.